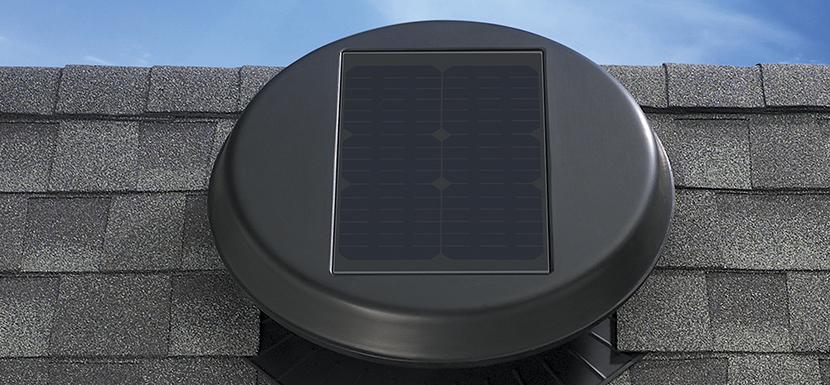 The summer season calls for long hours of scorching heat. Because of this, your attic can get as hot as 160 degrees Fahrenheit and your house can get very hot. Fortunately, there is a way to prevent this from happening, and that is by installing a solar attic fan.
Solar attic fans can prevent hot air in your attic, which will help cool your house. It does this by removing hot air and allowing cool air in your attic. Consequently, less heat will be transferred to your home through the roof.
There are different types of solar attic fans that you can choose from. Depending on your needs, you can choose to install either one-piece or distributed units. Installing solar fans for your attic is a straightforward process, as we will see below.
Steps for Installing a Solar Attic Fan
Installing a solar attic fan is not as difficult as it seems. The only struggle you would probably face is climbing up your roof. Regardless, you would need to be very keen on the instructions and take as much time as you need. The process may take 2 to 4 hours.
Materials Needed
Before you get right into it, here are the things you will need:
Hammer
Flat pry bar
Reciprocating Saw
Drill or Driver
Utility knife
Caulk Gun
Fan
Here is a step-by-step guide on how to safely install your solar attic fan:
Pick Fan and Determine Its Installation Angle
First, you need to choose your preferred fan. Your best bet would be to go for a solar panel that produces double the output needed by your fan. Then, check the ideal installation angle for your fan, which is usually printed at the bottom of your kit.
Connect Wires and Secure the Water-Tight Connector
The next step is to take out the 14-gauge wire and slip it through the opening of the junction box. Then connect the wires to its terminals – red to the positive terminal and black to the negative terminal. Afterward, tighten both the water-tight lid and connector into place.
Determine the Location of the Rafters and Drill your Brackets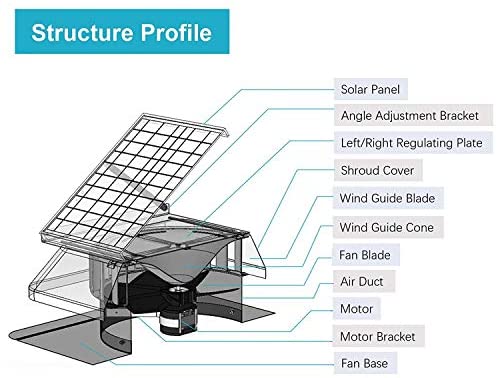 Using a hammer, locate the rafters and secure the panels by drilling Z-bracket mounts on the rafters. You may also need to add butyl sealant under every bracket before you drill it to the roof to keep it secure.
Trace the Cable along the Roofline
Take the electrical cable and trace it along the roofline from the panel until it is close to the gable vents. Keep the wire secured 18 inches apart for safety, and trace the wire through the vent. With this, you have installed the solar panel in place.
Cut Brace
Next, mark where you want to place the fan. Then, using screws and a drill, secure a 2×4 brace on the opening of the gable vent.
Connect Wires
Using wooden screws, secure your fan and the whole gable area. To test, connect the 14-gauge cable that you threaded through the opening to the fan wires. You will know that enough power is generated the fan starts to turn. If the wires are incorrectly connected, the fan will blow air instead of removing it, so be wary. Like this:
Place a Temperature Controller
If it works out, it's time to add a thermal switch or temperature controller. To do this, secure a plastic electrical box near the fan and thread the cable into the box. Then, connect one wire to the fan wiring and panel wiring each and secure with a wire nut. Lastly, set a temperature that will turn on the fan automatically.
Conclusion
According to a study by the University of Florida, homes in hot and humid areas that use attic fans experience rare condensation on the roof. They also note a relatively lower humidity, and moisture is quickly removed.
If you follow these steps correctly, you should be able to successfully and safely install a solar-powered attic fan with no problem. You can tackle this DIY project if you are an enthusiast improver. However, if you don't feel too confident, it's always a good idea to seek help from a friend or a professional.